Emerald Ash Borer
Agrilus planipennis
Description: Exotic to Michigan, the emerald ash borer is native to eastern Russia, northern China, Japan, and Korea. Adult beetles are metallic green, 3/4 inch in length and 1/6 inch wide. Adult emergance holes are D-shaped (below). 2-4 inch vertical splits in the ash bark result from larval tunneling activity.
Currently, the emerald ash borer is found throughout southern Michigan, in the Upper Peninsula of Michigan, and in Illinois, Indiana, Missouri, Ohio, Pennsylvania, West Virginia, Wisconsin, and Virginia. A map of EAB infestations and quarantine areas is available here (2.7 MB PDF). More information on EAB is available from the USDA.
Infested trees often exhibit symptoms of canopy dieback from the top down. Removal of the outer bark reveals winding larval tunnels in the inner bark.
Preventing the spread of the emerald ash borer is the most important management strategy. Limiting the movement of ash trees from nurseries, untreated ash logs, ash firewood and other ash products may aid in slowing the spread of this beetle.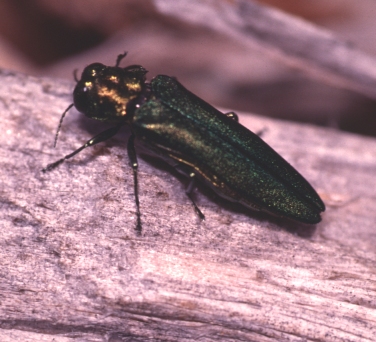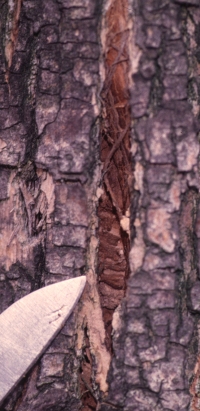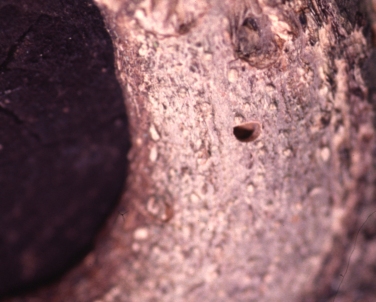 images by Andrew J. Storer, Michigan Technological University
Quick Guide (single page info sheet in pdf format)
Selected Publications:
Links: Michigan Ash Monitoring EAB Detection Project Ash Reduction Model